We begin this playoff weekend with a three-time national championship, and Super Bowl winning coach, a President-elect, and a spoof of legendary proportions.
On the 75th anniversary of Pearl Harbor, former Oklahoma, and Dallas Cowboy Coach Barry Switzer was on Fifth Avenue shopping with his wife and daughter when he decided to walk into the Trump Tower lobby to see the "Naked Cowboy," who since September, has been holed up either outside the building or in the lobby.
Switzer proceeded to take the elevator upstairs and bought a coffee at Starbucks.
When he returned, the coach walked over to the microphones, and surrounded by reporters, told them that he had a great visit with President-elect Donald Trump.
"I told them we had a great visit. That I was going to be the Secretary of Offense, and that we were going to make the wishbone great again, and that Trump knew how to run the ball down the field."
"I went back to my hotel and laughed my ass off – still laughing. I had all these calls, but I was just jerking people around," said Switzer.
On this New Year's Eve playoff, let's see which teams break the long end of the wishbone, and run the ball down the field, and which play a spoof its supporters by performing like a bunch of "naked cowboys."
No. 1 Alabama vs No. 4 Washington (ESPN, 3 p.m. – Peach Bowl) Groucho's favorite team ("We tried to remove the tusks, but they were so firmly embedded we couldn't budge them. Of course in Alabama, the Tuscaloosa" Captain Spaulding "Animal Crackers" – 1930) has won 25 in-a-row, a streak of perfection that would no doubt cause the eyebrow of the comedic genius' to arch a tad higher.
The Tchaikovsky of this gridiron symphony is maestro St. Nick; aka Nick Saban, who during his ten-year "Title-Town" residency, has compiled a jaw-dropping curriculum vitae of: 118-18, that includes four national championships, five-SEC titles, and leaves him two tantalizing victories away from equaling the once thought to be the unassailable record (six national championships) held by Tuscaloosa's other secular saint; "Sir Bear of Bryant."
If Alabama defends its title, Saban will have won five of the last eight national championships, a record that, we are comfortable in saying, will stand the test of all-time. [Note: Saban has one title from his time at LSU.]
To quote our President-elect, "It's a big league performance."
The cornerstone of this "tumult of dominance" is a defense that possesses better numbers than Elle Macpherson, or the yearly cash haul of a private equity executive.
Its execution has been of such a "supercalifragilisticexpialidocious" nature, that it has also caught the approving eye of the Israeli Mossad.
This "Iron Dome" eleven, the nation's stingiest (11-pts. a game) is anchored by a trio of All-Americas; linebacker Reuben Foster (12 tfls – 4 sacks), end Jonathan Allen (13 tfls-8.5 sacks), and safety Minkah Fitzpatrick, and has been stouter than William Taft, or the bronze "Clapp Pear" that lords over the corner of Edward Everett Square.
These "Sons of Lee Roy Jordan" ranked first overall, surrender a miniscule 63-rushing yards per game, and in addition to sporting a roster bursting with future Sunday performers, is more disruptive than an Alt-Right demonstration at an Elizabeth Warren fund raiser, or a pack of squirrels chomping on the wires of the Christmas lights at the Boston Common.
[Note: many "experts" place the Tide's D amongst the top-five in the history of college football.]
On offense these "Sons of Bart Starr" aren't as dynamic, but the nation's thirteenth highest scoring (40) squad has rightfully earned a prominent spot on the championship marquee.
Alabama's unblemished "gridironers" are directed by its t-freshman QB Jalen Hurts (21 TDs – 9 Ints – 65% – 841 rushing yards – 12 TDs) who exudes a demeanor as cool and measured as Gary Cooper playing "Sheriff Will Kane" in "High Noon."
The "Hadleyville" (Sheriff's Kane's town) kid gets a big assist from his road running trio: Damien Harris, Josh Jacobs, and Bo Scarbrough, (all average over 6-yards a carry), while his chain moving targets; Ardarius Stewart, Calvin Ridley, and All-America tight end O.J. Howard, have combined for 16 TDs, and have NFL scouts discreetly brushing spittle from the corners of their agape pie-holes.
In Seattle with apologies to Ripley, "Believe it or Not," there is another high-quality football team residing in the Emerald City.
And after enduring all those pat on the back 'Wink, wink, Hail fellow, well met' years as the sous-chef in Boise, Chris Petersen, the Huskies third-year head man, finally has a legitimate chance to capture a national title.
These prolific "Sons of Warren Moon," the nation's fourth highest scoring (44) eleven, are directed by the nation's fourth most efficient passer, QB Jake "The Rifleman" Browning (42 TDs -7 Ints – 63%) and the catalyst behind a Huskies tsunami that has outscored its opponents in the first half by an eye-popping aggregate of: 328-88.
The dart-throwing sophomore is assisted by a pair of Daytona-fueled receivers, All-America John Ross, and his partner Dante Pettis, whose caramel sticky fingers have combined for a jaw-dropping; 126 receptions, and 31 TDs.
On the ground UW, whose offense is as balanced the Wallenda family, roto-tills behind a pair of John Deere caliber earth movers; Myles Gaskins, and Lavon Coleman, who have accumulated; 2175 rushing yards, and 17-touchdowns.
The country's eighth tightest (17) D, led by its All-America heat-seeking safety Budda Baker (9 tfls – 2 sacks), and backers Keishawn Bierra, and Psalm Wooching (7 tfls – 6 sacks), swarms like the Secret Service over any disturbance at a Trump rally, leads the country with 33-takeaways, and is a plus-21 in turnover margin, and is more disruptive than the Fifth Ave traffic pattern around Trump Tower, especially when "The Donald" is puttering, and tweeting in his Louis XIV $100-million gold-plated penthouse.
Washington is the type of athletic squad that in the past has given Saban teams trouble, and to quote Sarah Palin, as to whether Chris Petersen will have his boys raring to go; "You betcha!"
Another note; the Huskies are one of only two teams who reside in the top-10 in both scoring on offense and defense. The other Alabama.
But ultimately, we think Groucho's eleven angry men – the Alabama D – will be enough to carry the day, as Alabama punches its ticket into national championship game, and a chance at immortality.
No. 2 Clemson vs No. 3 Ohio State (ESPN, 7 p.m. – Fiesta Bowl) In Clemson, the "Sons of Dwight Clark," have won 27 of its last 29, and are itching for a national championship rematch.
Heisman runner-up, QB Deshaun Watson (37 TDs-15 Ints-67% – 6 rushing) is the engineer who makes the Clemson train, (with apologies to "The Band" "Train, Train, rolling down the line,") steam smoothly down that track.
The shifty gunslinger is assisted by his touchdown making tailback Wayne Gallman (15 TDs), and a trio of game changing wideouts; led by the All-America pairing; Mike Williams (over 1100 yards – 10 TDs), tight end Jordan Leggett (7 TDs), and mixed with a spicy dollop of an equally dangerous Artavis Scott.
But just like Bogart in "Casablanca," and with apologies to George Frazier, the Clemson D has provided the "duende" for the Tigers return trip to the four-team playoff.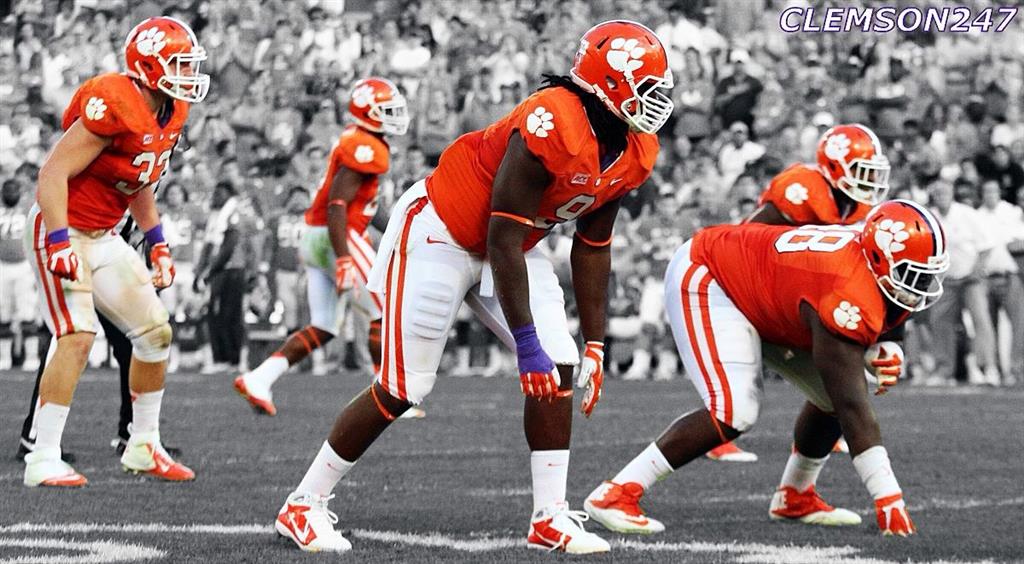 The nation's twelfth stingiest (18) D, anchored by the All-America duo; backer Ben Bouleware, and tackle Carlos Watkins (10.5 tfls-8.5 sacks), and reinforced by tackle Dexter Lawrence (9.5 tfls-7 sacks), and backer Kendall Joseph (10.5 tfls), has more speed than Kenya's Rift Valley, and plays with more anger than the Tilson family carries toward our hay-wired Senator Elizabeth Warren and her latest inane misfired tweet.
In Columbus, since taking up residency in Columbus five years ago, Bucks coach Urban Meyer carries a CV of Hedge fund proportions (61-5), that includes one national title, (he owns 3-overall – 2 at Florida) and now comfortably takes his place at the same podium as Ohio State's other revered head man; "The Hayes of Woody."
But with apologies to Robert Preston in "The Music Man," despite operating as the nation's ninth highest scoring (42) eleven, "There is trouble right here in River City," as the offense of late has sputtered as badly as the losing campaign of Hillary Clinton.
These "Sons of Archie Griffin" under the direction of its seasoned commander, QB J.T. Barrett (24 TDs – 5 Ints – 61%) have misfired on more big plays than the engineering team on the Samsung Galaxy S7, or Mitt Romney kissing "The Donald's" ring hoping to secure the gig of Secretary of State.
But when the Bucks QB is able to recalibrate his GPS, wideout/tailback Curtis Samuel, Noah Brown, and Dontre Wilson have caused some havoc; combining for: 122 catches and 19 TDs.
Yet as the Scarlet and Grey faithful are well aware, the real table setters are its top-ten rushing attack featuring tailbacks Mike Weber, and Curtis Samuel, who have combined for a patriotic; 1776 yards, and 17 touchdowns.
On D, the "Sons of Randy Gradishar," the nation's third stingiest (14), led by a pair of All-Americas; backer Raekwon McMillan, and safety Malik Hooker, have been the principle sopranos of the gridiron operetta better known as "Goodbye Columbus," have kept the Buckeyes in every game.
Ultimately, we think the sputtering and misfiring Bucks, combined with the stellar play of Clemson's QB Deshaun Watson, matched with its D, will be too much for the Boys from Columbus, as the Tigers punch its ticket into a championship rematch, and its chance for redemption.
That's it from cyber space. We'll be back by Wednesday with our analysis of the championship game. Until then, Peace, and listen to the music. PK