Yale's newest bulldog mascot Handsome Dan XVIII                        AP photo
We begin this week with the nation's third most common mascot, in this case an Old English bulldog who answers to the name Handsome Dan XVIII, and resides at one of the nation's most prestigious schools.
The rankings of the most popular college mascots falls the following way: the eagle leads with 74, followed by the tiger at 46, then the beloved bulldog comes in at 39.
Dan, who just celebrated his first birthday, calls New Haven, Connecticut home, and his address is Yale University.
His duties are to attend every Yale team's games, make hospital visits, and of course make an appearance at the all-important fund-raisers.
Dan also led the 2017 commencement parade strutting alongside the Eli President Peter Salovey.
His recently deceased predecessor was photographed with presidents Jimmy Carter, George H.W. Bush, as well as Paul McCartney and Dan the XVIII can only hope to have such a successful run.
This weekend, let's see which teams have gone to the dogs, and which, like Yale's young mascot, struts off the field bone tired, but with enough bite to fight another day.
No. 19 Michigan at No. 2 Penn State (Ch. 5, 7:30 p.m.) If Michigan is to spring the upset, its Gandalf-esque defensive coordinator, and Massachusetts native Don Brown, the former headman of Northeastern and UMass, will need to concoct a brew as strong as the VX nerve agent that Kim Jong-Un brewed to eliminate his half-brother.
Michigan d-coordinator and Spencer,Mass native Don Brown       AP photo
These top ranked defensive "Sons of Gerald Ford" anchored by backers Devin Bush (5.5 tfls – 4.5 sacks) Mike McCray (5.5 tfls – 2 sacks), and end Chase Winovich (7.5 tfls – 5.5 sacks) are as disruptive as a Harvey Weinstein sighting at the next Democratic National convention, yet perform in Mozart perfection allowing a miniscule 14-points a game.
But as magnificently as its D has shined, Blue's offense (79th scoring – 27 pts.) has been as invisible as Patrick McGoohan in the television series; "Secret Agent" which ran from 1964-67.
The reason for that scoring drought lays at the arms of its QBs, now under the direction of John O'Korn, as the Michigan offense has been as dreadful (109th) as a Sunday homily that rehashes word-for-word the gospel reading.
It has forced Coach Jim Harbaugh to return to his roots, and the Wolverines identity; its ground and pound running attack (UM's last 1000-yards rusher was 2011) led by the quality earth-moving tandem: Karan Higdon and Ty Isaac.
These guys must operate like the Surgeon General, if "Mighty Michigan" is to remain a top-25 player.
In Happy Valley, its "Happy days are here again" as the undefeated Nittany Lions are carrying its highest ranking (No. 2) since Prince was partying like it's; 1999.
Penn State's Heisman contender Saquon Barkley           AP photo
The resurgence can be traced to its offensive duopoly of its Heisman contending "Mr. Everything" tailback, Saquon Barkley, and QB Trace (13 TDs -4 Ints -67%) McSorley.
This duo has been as destructive as the US backed Syrian Democratic Forces liberating Raqqa, Syria.
But all is not "peaches and cream" in River City, as he 'Nits offensive line has more holes than the DUI convictions based on the Massachusetts breathalyzer.
But when its cucumber cool swashbuckler QB is given the time, wideouts Juwan Johnson, DaeSean Hamilton, and tight end Mike Gesicki are dangerous game changing targets.
But the surprise has been the D of these "Sons of Jack Ham."
The country's stingiest (9) eleven, led by backers Jason Cabinda, Manny Bowen, and safety Marcus Allen is as ornery as the relationship between Donald Trump and Rex Tillerson, and stones runners and deflates passes with the same proficiency as the keeper stripers feasting on mackerel schools in the Cape Cod Canal.
This game will severely test Mr. Brown's wizardry, and as much as we'd like to side with our native son, we think it will be the Lions who do indeed party like it's 1999 with another cornerstone added into its playoff resume.
No. 11 USC at No. 13 Notre Dame (Ch. 10, 7:30 p.m.) For the 86th edition of this classic intersectional rivalry (ND holds a 44-36-5 edge), the Irish are honoring its 1977 national championship team in which 80 members are expected to be on hand.
But that is of no concern to these Men of Troy commanded by its starry QB Sam Darnold (15 TDs – 9 Ints – 62%) who despite his plethora of turnovers is no Trojan Horse as his 15-2 record as a starter indicates.
USC QB Sam Darnold                                         AP photo
The unflappable blond bomber, who seems to do his best work when under duress, is assisted by a turbo-charged tailback Ronald Jones II (8 TDs – 6.3 a carry), and a quartet of chain-moving targets; Deontay Burnett (6 TDs), Tyler Vaughns, Steven Mitchell, and tight end Tyler Petite.
Unfortunately, the D of these "Sons of Ronnie Lott" featuring end Christian Rector (6.5 sacks), backer Cameron Smith (6.5 tfls), and safety Marvell Tell isn't vintage USC (90th pass defense), but manages to brace nicely in the red zone allowing a respectable 23-points a game.
Amazingly, ND Coach Brian Kelly has yet to defeat a top-10 ranked team at home, and that will hold true this weekend.
Notre Dame QB Brandon Wimbush                                 AP photo
The catalyst of this "Touchdown Jesus" eleven is its slithery, dual-threat QB, Brandon Wimbush (6 TDs – 2 Ints – 52% – 8-rushing) who has ignited the Irish student body almost as well as the candles at the campus Grotto of our Lady of Lourdes.
The Domers have scorched the earth behind the nation's 5th best rushing offense (308 yds.), with its bell cow Josh Adams, who averages 9 yards a touch, and 129 yards a game, leading the committee of tailbacks.
When ND takes to the Rockne skies, wideouts Equanimeous St. Brown, Chase Claypool, and tight end Alize Mack are dangerous defense stressors.
The D, anchored by backers Nyles Morgan, Greer Martini, and Te'von Coney only yields 16-points a game, but struggles (78th) defending the pass, which is not a winning formula against USC.
In this high-stakes contest, it's easier to pick the winner of the next Kenyan election, but we think the visitors from the City of Angels, finally string together four strong quarters, leaving "Touchdown Jesus" with a tear stain flowing down his cheek and without an invite to the playoff dance.
Columbia at Dartmouth (ELEV, 12:30 p.m.)  This may well be the most compelling game of the day.  And Columbia in one of the best stories in all of college football.
This is a first place showdown between a pair of undefeated elevens – yes, buckaroos, Columbia is 5-0, and certainly deserving of some recognition.
Columbia Coach Al Bagnoli                                  AP photo
Since taking over the Lions in 2015, after spending 23-years prowling the sidelines of Penn where he captured nine Ivy League titles (3 of which were perfect seasons), Coach Al Bagnoli, a future HOF, and nicknamed the CEO, has transformed the culture of the Columbia football program.
It had fallen into an abyss even lower than anything Edgar Allen Poe might conjure, as the Lions were a mud-sucking 45-134 between 1997 and 2014 before Bagnoli's arrival.
But seemingly miraculously, these "Sons of Sid Luckman" stand tall at 5-0 for the first time since Bill Clinton was in the middle of a re-election campaign 1996, and have the opportunity to take over first place if it captures the W in Hanover, New Hampshire.
Columbia's offensive igniter is its senior conductor, QB Anders Hill (13 TDs – 2 Ints -63%), who has the luxury of focusing on a trio of talented chain movers; Josh Wainwright (6 TDs), Ronald Smith III (4 TDs), and Emerson Kabus, all of whom average 15-yards a grab.
But as well as its passing game has operated, Columbia's ground attack (76th) featuring Tanner Thomas, and Chris Schruer runs about as well as the MBTA's Red Line in a Nor'easter.
The D, once as creaky and rusty as that bucket of bolts AKA the Tobin Bridge, featuring backer Michael Murphy (6 tfls), and safeties Ryan Gilbert, and Landon Baty, has been reinforced with steely feistiness and allowing a very respectable average of; 20-points a game.
In Hanover, they've taken to calling Dartmouth's Big Green "the cardiac kids" for its season long dramatics in come-from-behind late game heroics.
Dartmouth QB Jack Heneghan                                                     AP photo
These "Sons of Buddy Teevens" are under the guidance of QB Jack Heneghan (11 TDs – 2 Ints – 64%) who gets a huge assist from his all-purpose tailback Ryder Stone, mixed with a pair of sure-handed receivers; Emory Thompson, and Drew Hunnicutt.
D's D, led by backers Jack Traynon, Eric Meile, and safety Kyran McKinney-Crudden hits harder and with more precision than a blacksmith working in Santa Fe, New Mexico.
In a game filled with great intrigue, with the top spot in the Ivy riding on its outcome, we'll stay with Columbia, as the Lions and its remarkable season continues to roar throughout the land.
No. 10 Oklahoma State at Texas (Ch.5, Noon) The Pokes of Boone Pickens University, AKA Oklahoma State continues to put up pinball numbers.
OKState's Heisman contending QB Mason Rudolph                            AP photo
It sits second in the nation in scoring (48 pts. a game) courtesy of its surgical dissector, and Heisman contending QB Mason Rudolph (19 TDs -4 Ints – 66%), who hits his target with the same consistency as Ted Williams during the 1941 season.
The nation's third most efficient sharpshooter, luxuriates in locking onto his Linus-blanket All-World wideout James Washington (6 TDs), who averages an otherworldly 25-yards a catch, while his partners Marcell Ateman (4 TDs), and Jalen McCleskey (5 TDs), carry the same game breaking ability and comprise the top ranked passing game in America.
When "Coach Mullet" Mike Gundy takes a reprieve from his rockets-red glare air-attack, tailbacks Justice Hill (6 yds -5 TDs), and JD King (6 yds) are quality road graders and must be respected.
The Cowboys D, as with most of its Big 12 brethren (TCU is the exception) led by backers Chad Whitener, Justin Phillips, and safety Tre Flowers is pedestrian in every way, and against a high-powered offense may well cost the Cowboys a shot at a conference title game invite.
In Austin, the Horns, after a Diogenes like search, have finally found a QB in its dual-threat, t-freshman Sam Ehlinger (6 TDs-3 Ints 54%), who is tougher than a Jane Fonda's stare at that ratings disaster host Megyn Kelly.
Texas QB Sam Ehlinger                                                              AP photo
The kid plays with an élan and cockiness that even John "You can bunk with me, kid" Wayne would approve.
The baby face assassin is assisted by a trio of receivers; Reggie Hemphil, Amant Foreman, and Collin Johnson, but the Horns running attack, led by Chris Warren III is as mellow as the personality of Ed Markey.
The 'Burnt Orange D, anchored by backers Malik Jefferson (6 tfls), Anthony Wheeler, and safety Brandon Jones struggles mightily (108th) defending against the pass, which is a losing formula against the Cowboys.
Texas has shown great improvement since its opening game debacle against Maryland, but bottom line, we simply don't trust its secondary to hold up against the Ok State aerial assault, as the Pokes lasso he Horns for the victory.
Indiana at No. 18 Michigan State (Ch. 5, 3:30 p.m.) Maybe the Hoosiers should coax Jim Nabors (age 87) out of retirement for one more stirring rendition of; "Back home again in Indiana" in celebration of these "Sons of Anthony Thompson," who under its first year coach Tim Allen have become a spunky, dangerous and entertaining eleven.
IU has also found its leader in dual-threat r-s freshman QB Peyton Ramsey (7 TDs-4 Ints – 62%) who despite a Zen-like coolness, is tougher than winter surfer at Nantasket.
Indiana QB Peyton Ramsey                                                               AP photo
In fact, after last's week's heart-rending overtime loss to Michigan, Jim Harbaugh sought the kid out complimenting him on that toughness then telling him, "I'm going to enjoy watching you play."  Wow!
With a running game (92nd) that is as feeble as the on-time record of the T's commuter rail, its left to the Hoosiers QB, and his trio or receivers; Simmie Cobbs, Luke Timian, and tight end Ian Thomas to carry the offensive load.
The D, anchored by a pair of senior backers; the ubiquitous Tegray Scales (6.5 tfls -3.5 sacks), his partner Chris Covington, and corner Chase Dutra are like the Israeli missile defense system defending the pass, but is as porous (72nd) as dolomite stopping the run which is the wrong material against Michigan State.
In East Lansing, in celebration of the revival of these "Sons of Duffy Dougherty" (MSU was 3-9 last season) Neil Diamond's "Brother Love's Travelling Salvation Show" should be blaring through the Spartan Stadium speakers.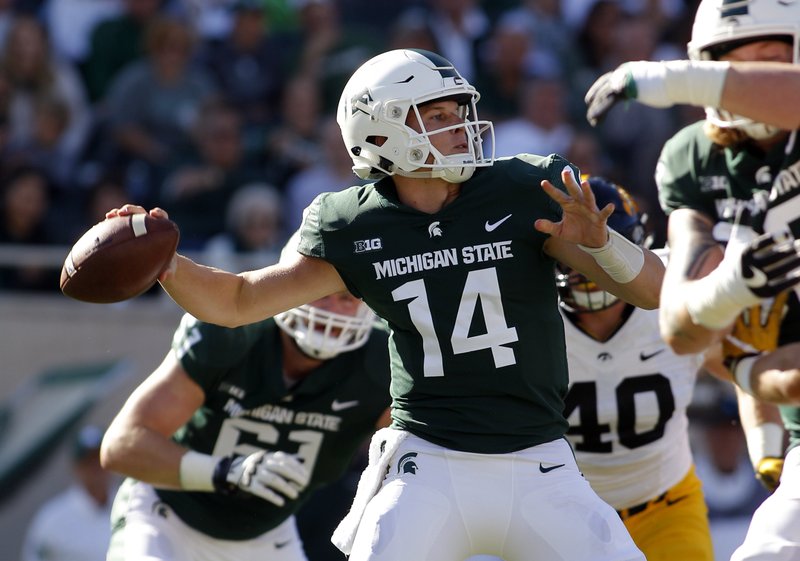 Spartans QB Brian Lewerke                                                        AP photo
Coach Mark Dantonio's all-business eleven directed by its dual-threat QB Brian Lewerke (9 TDs – 3 Ints – 60%), (second in team rushing) is as resilient as Richard Nixon's 1968 presidential victory, or John McCain's return to the Senate.
The Spartans consistent grinding running attack motors behind its steady tailbacks LJ Scott and Madre London, but receivers Felton Davis, and Darrell Stewart won't cause any sleepless nights for opposing d-coordinators.
But as with all Dantonio coached teams, its identity revolves around its anvil-hardened defense, and this year's "Bubba Smith" edition anchored by backers Joe Bachie (5 tfls-2 sacks), Andrew Dowell and safety Khari Willis is no exception, ranking 5th in the nation overall, and equally disruptive against the run and the pass, while surrendering a miniscule 18-points a game fitting perfectly into the Spartan mold.
This will not be a walk over for "Green of East Lansing" as John Houseman used to say; "They'll have to earn-it," but we ultimately think the Spartan's D will carry the day, as Michigan State's "Brother Love" revival continues rising in the Big Ten as well as the national standings.
Last week: 2-3                                                           Season record: 23-12
That's it from cyber-space.  We'll be up and running with our recap Sunday afternoon.  Until then, Peace, and listen to the music.  pk