UAB Blazers football team
We begin this week with a coach, a children's hospital, and the jerseys of a football team that carries with it a unique name twist.
In its October 7th game against Louisiana Tech UAB, the University of Alabama Birmingham football team will be wearing jerseys with the names, not of its players, but of a 100-patients from the local "Children's Harbor Hospital."
After the game the jerseys will be presented to the patients and their families as a way of spreading some joy to these kids who are fighting serious diseases.
Children's Harbor CEO Myrle Grate said that UAB coach Bill Clark "provides a joy and enthusiasm the he and his players bring to the families that is palatable. It brings a level of healing that's truly beyond our abilities alone." Do you hear that Rick "Sargent Shultz" Pitino!
This weekend let's see which team bring more joy to its proud alums by adding another notch to its win column, and which would like slink out of the stadium in total anonymity.
No. 2 Clemson at No. 12 Virginia Tech (Ch.5, 8 p.m.) The Clemson Tigers have achieved that rare elusive status that only the elites of any profession have tasted.
When the defending national champions strut out of the visitors tunnel a Stones-like electricity resonates through the crowd, almost as if they are watching Mick preening and prancing on stage belting out; "Symphony for the Devil."
The commander of Dabo's eleven is its dual-threat, peppermint cool QB, Kelly (3 TDs – 2 Ints 67%, 7 rushing touchdowns) Bryant, who has been as deadly as a sniper on a Raqqa rooftop, while exuding the same quiet confidence as John Wayne in; "Rio Bravo."
Clemson's "Peppermint Cool" QB Kelly Bryant                               AP photo
The Tiger's field-general is assisted by a passel of turbo-charged tailbacks; Travis Etienne, Tavien Feaster, Adam Choice, and C.J. Fuller who rumble as smoothly as a Tesla.
And when Clemson takes to the Death Valley skies, wideouts Ray-Ray McCloud, Deon Cain, and Hunter Renfrow, (whose hands could be in an advertisement for "Gorilla Glue") constantly move the chains.
But it's the nation's third stingiest (9 pts.) D, anchored by backers Dorian O'Daniel, Kendall Joseph, safety Tanner Muse, and end Austin Bryant, who are harder to penetrate than Steve Bannon's wall safe that will ultimately determine if Clemson is to make a return trip to the playoff.
The last time Blacksburg faithful witnessed a game of this magnitude, Barak Obama was in the final year of his first term 2007, which in today's unsettled environment seems like a millennia ago.
The VaTech fan base is also giddy over its second year Coach Justin Fuente who has produced victories not seen since the glory days of its iconic coach; Frank "Beamer Ball" Beamer.
And if the "Sons of Carroll Dale" should pull the upset, the national rankings, as well as the national playoff picture will experience a tectonic plate shifting, not seen in Lane Stadium since a guy named Michael Vick was leading the Hokies to glory.
The Men of Blacksburg are piloted on the arm of the nation's eighth most efficient passer, its gun slinging dual-threat QB Josh Jackson (11- TDs-1 Int – 65%, 172 rushing yards), who hits his target better than Michael Jackson hit a high falsetto note.
VA Tech QB Josh Jackson                                                     AP photo
The maestro with the perfect pitch is assisted by tailbacks Travon McMillian, and Deshawn Clease, while wideouts; Cam Phillips (5-TDs), and his partners Sean Savoy, and C.J. Carroll have the ability to stress any defense.
And just like the swallows return annually to Capistrano, VaTech has another outstanding swarming D
under the tutelage of its long-time defensive guru, coordinator Bud Foster.
This group, led by backers Tremaine Edmunds, Andrew Motuapuaka, and nickel-back Mook Reynolds surrenders a miniscule 10-points a game, and attacks with the ferocity of a great white shark against a seal herd on the beaches of Orleans.
In a game that will have more hits than a Beatles convention, we think that it will be the Clemson
D that stifles the Hokies the same way Archie did to Edith on "All on the Family – Boy the way Glen Miller played … those were the days."
No. 5 USC at No. 16 Washington State (Friday, ESPN, 10:30 p.m.) The winning streak for the Men of Troy has stretched to a baker's dozen, a number not seen since old friend Pete Carroll was "jacked and pumped" and chest-bumping Snoop Dog on the Coliseum sidelines.
The "Sons of Lynn Swann" are piloted by its "Cool Hand Luke" QB Sam Darnold (9 TDs-7 Ints. – 67%), whose plethora of interceptions has slightly dimmed his Heisman chances, but certainly hasn't hamstrung him from continuing to perform in a dramatic gunslinging flair.
USC QB Sam Darnold                                                                      AP Photo
The rocket-armed blond-bomber is assisted by a pair of slippery tailbacks Ronald Jones (leg) and freshman Stephen Carr, and when he takes to the Southern California skies, wideouts Deonay Burnett, and Steven Mitchell always seem to make the clutch grab.
On D, the "Sons of Ronnie Lott" led by backers Cameron Smith, Uchenna Nwosu, and Porter Gustin have shown some fissures stopping the run, while surrendering an average of 24-points a game.
In Pullman, with apologies to Mary Shelly, and Mel Brooks, the real mad-scientist resides in the football offices of the Palouse, disguised as the head coach of the Washington State Cougars.
Coach Mike Leach, the maven of the Air Raid offense, has his Cougs off to its best start since "W" was cutting brush on his 1600-acre Prairie Chapel Ranch in Crawford, Texas – 2001.
The conductor of those high-octane offensive schemes is its starry QB Luke Falk (14 TDs-1 Int – 76%), the third all-time passer in the history of the Pac -12, who hits his target with the same accuracy as Kim Jong Un targets a blood relative.
The Wazzu rifleman relies on a trio of glue-fingered receivers; Tavares Martin, Isaiah Johnson-Mack, and Kyle Sweet, and when the Leach changes up, and calls for a run, which happens about as often as "The Donald" doesn't use the pronoun I, (WSU is 126th in rushing), tailbacks Jamal Morrow, and James Williams, are solid contributors.
It's never easy to go against USC, especially one riding a 13-game winning streak, but on the Palouse, we think the Cougars show the entire country that quality football is being played in Pullman, Washington.
No. 14 Miami at Duke (Friday – ESPN, 7 p.m.) Two weeks ago when Hurricane Irma came roaring into Florida, the football playing Hurricanes had its schedule (2-games rescheduled) blown off kilter.
And because of that thin resume, it leaves us as clueless as Sarah Palin was to the intricacies of "Land of Putin;" "I can see Russia from my house," as to whether its ranking is deserving.
Miami QB Malik Rosier                                                     AP photo
QB Malik Rosier, comforted by a seasoned offensive line, is the newly installed director of these "Sons of George Mira."
The kid has the luxury of calling on a pair of Jean Claude Killy-like downhill runners in Mark Walter and Travis Homer, and when Rosier takes to the clammy Miami skies; wideouts Braxton Berrios, Mike Harley, and tight end Christopher Herndon are comforting chain-moving targets.
The D of the "Sons of Vince Wilfork" led by corner Malek Young, tackle Joe Jackson, and backer Shaquille Quarterman, once as shaky as the Puerto Rican dam holding back Lake Guajataca, has been nicely shored courtesy of the hiring of defensive assistant wizards; Manny Diaz, and Craig Kuligowski.
In Durham, the only organization that has done a better job than Duke's headman David Cutcliffe, (who is attempting to get the Blue Devils off to a 5-0 start for the first time since Bill Clinton was chasing Barbara Streisand around a White House piano – 1994) is the Office of FEMA.
[Note: Ole Miss has never been the same since it badly blundered by firing Cutcliffe in 2004.]
And unlike "Little Ricky" Pitino, Coach Cut is always looking out for the disfranchised.
He called out the contractual television obligation that his conference has with ESPN, which showcases an ACC team every Friday night. "I apologize to all of the high school programs. If we are going to do it (televise Friday night games) we need to do it right." Well said coach.
These "Sons of Steve Spurrier – Duke head coach 1987 -89 won ACC title in '89- the school's last) are commanded by the steady hand of its dual-threat QB Daniel Jones (5 TDs – 2 Ints. – 61%) who leans heavily on a pair of tailbacks; Shaun Wilson and Brittain Brown.
And when the Dukies take to the air, wideouts T.J. Rahming, and Johnathan Lloyd are steady sure handed route runners.
On D, the "Sons of Mike Curtis," second in the nation in stoning runners (less than 2.5 yds a carry), and sitting 11th overall, attack behind backers Joe Giles-Harris, Ben Humphries, and safety Alonzo Saxton,
and overall have been harder to penetrate than the Supreme Court's inner-sanctum.
In a game of great intrigue, we'd dearly love to see the "smart kids" pull this off, but we think there is too much talent on Mark Richt's Hurricanes, who "storm" back to Florida with a hard won W.
Northwestern at No. 10 Wisconsin (Noon, Ch. 5) If Notre Dame and Brian Kelly should ever tear up their dance card, Northwestern Coach Pat Fitzgerald, who has built a program worthy of Frank Lloyd Wright, should be its first call.
Fitzy may never want to leave his alma-mater, but if he ever said yes, it would be a South Bend fit as perfect Raquel Welsh.
Northwestern QB Clayton Thorson                                                  AP photo
His scrappy Cats are directed by its slithering dual-threat QB Clayton Thorson (4 TDs-3 Ints -63%) who isn't flashy, but possesses better leadership qualities than any of the Admirals of the Navy's 7th Fleet.
The elusive, leather-toughened junior calls on his bell-cow tailback Justin Jackson, almost as often as "The Donald" tweets, while a pair of Space Needle-sized receivers; Garrett Dickerson and Bennett Skowronek are targets of high caliber.
On D, the "Sons of Fred Williamson" anchored by backers Paddy Fisher, Nate Hall, and safety Godwin Igwebuike have struggled against both the run and pass which is not a good recipe when venturing into Camp Randall.
In Madison, Paul Chryst's Badgers who have better overall balance than the Wallendas, and have, as Sinatra sang in JFK's 1960 presidential campaign "High Hopes" for a playoff invite.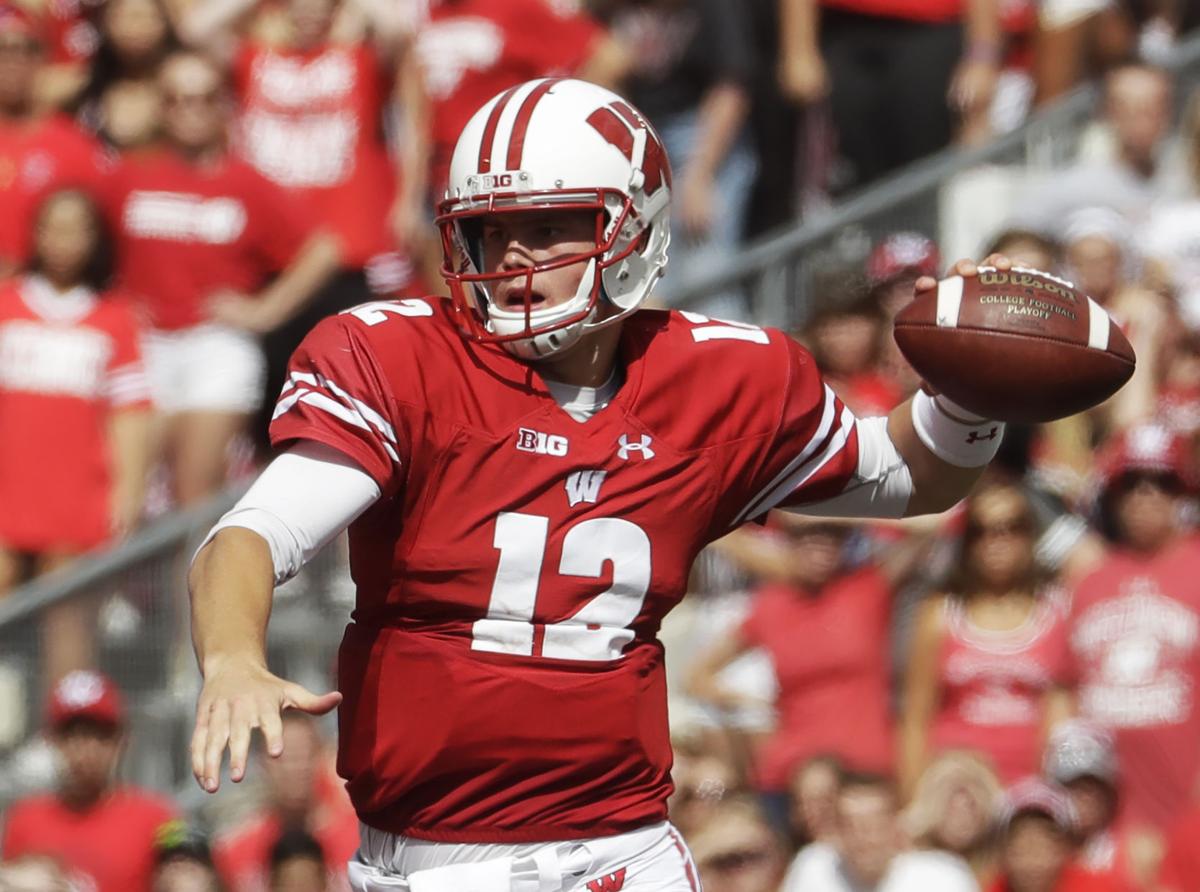 Wisconsin QB Alex Hornibrook Ap Photo
The pyrotechnics igniter for the "Sons of Russell Wilson" is the nation's fourth most efficient passer, QB Alex Hornibrook (8 TDs – 1 Int -70%), who along with receivers Troy Fumagalli, and Quintez Cephus, has
the ability to light-up the Mad-Town scoreboard better than an US Air Force napalm drop lighting the hills surrounding Khe Sanh.
But with apologies to the "Talking Heads" the Badgers identity remains; "The same as it ever was" featuring a ground and pound patrol that averages a high-cotton 275-yards a game.
The leader of that ground force is its t-freshman sensation Jonathan Taylor (8.3 yds. a pop – 5 TDs) who has been covering acreage almost as quickly as the Kenyan national marathon team.
America's forth stingiest D (10 pts.), led by backers Chris Orr, Leon Jacobs, and safety D'Cota Dixon hits with the ferocity of an Amtrak laborer pounding in a repair spike on an overtime shift.
As we said, we think Wiscy is a legitimate playoff contender, and ultimately prevails over the Evanston visitors.
No. 24 Mississippi State at No. 13 Auburn (ESPN, 6 p.m.) This is a bounce back, identity, and potentially season shifting game for the Bulldogs, who for the second consecutive week find themselves visitors in an environment with more hostility than a corporate banker testifying in front of Elizabeth Warren.
These "Sons of D. D. Lewis" directed by its dual-threat QB Nick Fitzgerald (7 TDs – 3 Ints – 57% – 5-rushing), earns its money as road grinders averaging a robust 267-rushing yards per game led by tailbacks Aeris Williams, and Kylin Hill.
And when the Bulldogs go aerial a trio of All State receivers; Donald Gray, Keith Mixon, and Deddrick Thomas keeps the offense moving.
On D (14.8 pts.) MSU shoots down the pass (5th) better than the Pentagon's anti-missile system, and causes constant disruption behind backer Dezmond Harris, safety Mark McLaurin, and tackle Jeffrey Simmons.
Up till now the offense residing on the Plains for the "Sons of Shug Jordan" has been better suited for "Sleepy Hollow."
Baylor transfer QB Jarrett Stidham (3 TDs-2 Ints – 70%), who was expected to be War Eagle's missing link remains relatively low on the learning curve as to the defensive ways of the SEC.
But it's on defense where the Tigers expect to play a winning hand.
Auburn's suffocating D                                                   AP photo
Auburn's suffocating front seven, the nation's 7th stingiest (11), anchored by backers Tre' Williams, Darrell Williams, and end Jeff Holland puts up a better wall than anything President Trump could possibly hope to build.
The faithful are also hopeful that the offense, which thawed somewhat against a woeful Missouri team, and is led by its Baffert-esque stable of tailbacks Kamryn Pettway, Kam Martin (9 yds. a touch) and Kerryon Johnson will finally be able to find some consistency.
This magnitude of this game is so big that it may ultimately decide the future employ of Auburn Coach Gus Malzahn, and we think the Tigers, with its anvil-pounding D, carries the day.
Last week: 3-2 Season record: 13-7
That's it from cyber-space. We'll be up and running with our recap on Sunday afternoon. Until then as always Peace, and listen to the music. pk