Pitt State gorilla mascot                                           AP photo
We begin this quarterfinal weekend, the results of which will determine the final four, with an eccentric coach, a small university in Kansas, and a usually named mascot.
Washington State Coach Mike Leach spouted out this reply to a question about mascots during one of his news conference; "There is a place in Kansas called Pitt State, and I used to see it on film. We didn't play them. Called Pitt State, and they're called the Gorillas. And there should be a lot more gorillas for mascots, because think about it, a gorilla could whip a lot of stuff, you know."
Whatever you say coach.
On this big weekend let's see which teams send it's faithful to the "Pit of Misery" from a painful loss, and which walks off pounding its chest gorilla-like over its scintillating conference championship victory.
No. 4 Auburn vs No. 6 Georgia – SEC Championship (Ch.4, 4 p.m.) Rematch.
It's a word that sends almost as many shudders down a coach's spine as the sight of Al Franken posing for a photo with your sister at a State Fair.
And when two bitter rivals are added in an unexpected post-Thanksgiving second helping of the oldest rivalry in the Deep South (Georgia holds a 57-56-8 advantage) anything is possible, especially when a playoff spot and just maybe a new place of employment for the Tigers coach riding on the outcome.
Auburn which has jumped out on its first half opponents by the combined eye-popping aggregate; 228-91 is hamstrung by a pair of ponderable questions.
If it loses, will its Coach Gus Malzahn be hitting the highway to become the next head man at Arkansas?
Auburn tone setters QB Jarrett Stidham and Kerryon Johnson            AP photo
And more importantly, for its faithful, what is the status of its bruising All-America caliber tailback Kerryon Johnson (1276 yards – 17 TDs), who left last week's game against Bama with a shoulder injury?
If its tone setting tailback is unable to go, the entire Auburn offense transforms from a smooth purring Tesla into a rusted sputtering YUGO.
The commander of that offense is its peppermint-cool target shooting QB Jarrett Stidham (16 TDs-4 Ints-68%) whose arrival from Baylor gave War Eagle its first legitimate signal caller since Cam Newton.
And the steely leader has the luxury of lasering onto a trio of chain movers; Ryan Davis (69-catches, 5 TDs), Darius Slayton (5 TDs), and Nate Craig-Myers, and if Johnson makes only a token appearance, his running mate Kam Martin will be called upon to carry the load.
The seething D of these "Sons of Karlos Dansby," the nation's ninth (16) stingiest, and eleventh overall, featuring backers Jeff Holland (12 tfls-9 sacks), Deshaun Davis, and tackle Derick Brown attacks with the indignation of the French revolutionaries storming the Bastille, while hitting with the power of a Thomas Hearns right hand.
In Athens, the Bulldogs faithful are drooling almost as much as its mascot UGA X over the prospect of redemption against the team that shredded them less than a month ago. And if its claws out a victory Georgia will not only capture its first SEC title since the start of W's second term – 2005, but also cement its position into a playoff slot.
Georgia tailbacks Nick Chubb and Sony Michel                  AP photo
Hard charging tailbacks Nick Chub, and Sony Michel (2001 combined yards – 26 TDs) the best Southern pairing since Rhett Butler and Scarlet O'Hara, are the sparkplugs propelling this "Vince Dooley" bus.
But, if the Tigers D can once again stifle the Dawgs running attack, there will be no playoff invite arriving in Athens mail.
The director of the Bulldogs operation is its unflappable t-freshman QB Jake Fromm (19 TDs-5 Ints-62%) who in addition to leaning heavily on "Rhett and Scarlett" is assisted by a trio of field-stretching targets; Javon Wims (6 TDs), Terry Godwin (20-yds a grab, 5 TDs), and Mecole Hardman.
On D, these "Sons of Jake Scott," the nation's fifth (13) stingiest, and fourth overall, is led by the backers threesome; Roquan Smith, J.R. Reed, and Lorenzo Carter, who are equally disruptive in stoning runners and deflating passes, and are harder to penetrate than the real estate records of Trump's son-in-law Jared "Middle East Peace," Kushner.
As we stated, rematch is a spooky word for a head ball coach, and with Johnson not at full strength, we think Georgia reaps its revenge, and moves into the playoff realm, while Gus Malzahn, who coached high school football Arkansas in scurries off to Fayetteville to take over the Razorbacks of Arkansas. (Maybe.)
No. 1 Clemson vs No. 7 Miami –ACC Championship (Ch. 5, 8 p.m.) Dabo just captured his 100th victory as the head ball coach of Clemson, and if wins the "Dalmatian 101st" on Saturday, Clemson will have clinched its third consecutive ACC title, and be heading to its third consecutive playoff dance.
Clemson QB Kelly Bryant                                 AP photo
These "Sons of Dwight Clark," (who is afflicted with ALS), are under the direction of QB Kelly Bryant (10 TDs -4 Ints-66%, 10 rushing), who's been as smooth and cool as Andy Williams on stage at the Sands belting out his signature song; "Moon River."
The dual-threat signal caller is assisted by a cast of All-State (good hands) receivers; Deon Cain, Hunter Renfrow, and Ray-Ray McCloud, and topped by a pair of turbo-charged road runners; Travis Entienne (7 yds a pop, 11 TDs), and his equally dangerous partner Tavien Feaster.
The Tigers anvil-hardened D, the nation's fourth (13) stingiest, featuring backers Dorien O'Daniel (9.5 tfls-5 sacks) Kendall Joseph, and ends Austin Bryant (14.5 tfls-7.5 sacks), and Clelin Ferrell (14 tfls-7.5 sacks), is more disruptive than a Nancy Pelosi bumper sticker spotted on a car parked in the lot of Trump International Golf Club.
Miami is playing with house money.
Mark Richt's surprising eleven weren't expected to be in this position, and while the task in front of them is Himalayan high, as the poet wrote; "Do not go gentle into that good night" and the Canes will battle till the end.
Miami QB Malik Rosier                                       AP photo
But if Miami is going to knock off the nation's top dog, its QB Malik Rosier (25 TDs-9 Ints-55%), who has struggled in his last two games, must quickly find the solution to revive his game.
The talented rocket-launcher relies on his defense softening bell-cow tailback Travis Homer (7 TDs), whose shifty speed helps to free his game-changing principle target; wideout Braxton Berrios. [Note: tight end Christopher Herndon, Miami's second leading receiver, is out torn MCL, and that is a huge loss.]
Miami's turnover-chain loving D, led by ends Trent Harris (10.5 tfls-8.5 sacks), Joe Jackson (10.5 tfls-5.5 sacks), and backers Michael Pinckney (9.5 tfls), and Shaquille Quarterman won't conjure any memories of Hurricanes glories of a bygone era, but it does have the uncanny ability to stiffen in the red-zone surrendering a highly-respectable; 18-points a game.
That said, we think Dabo and his Tigers grab victory 101 and punch its ticket to the big dance.
No. 8 Ohio State vs No. 3 Wisconsin (FOX, 8 p.m.) With apologies to John Houseman, if Urban's Boys are going to be invited to the playoff, they are going to have to "eaaarrrrnnn it." First by defeating the undefeated third ranked team in America, then captured what is expected to be a beauty contest between them and the Tide of Alabama.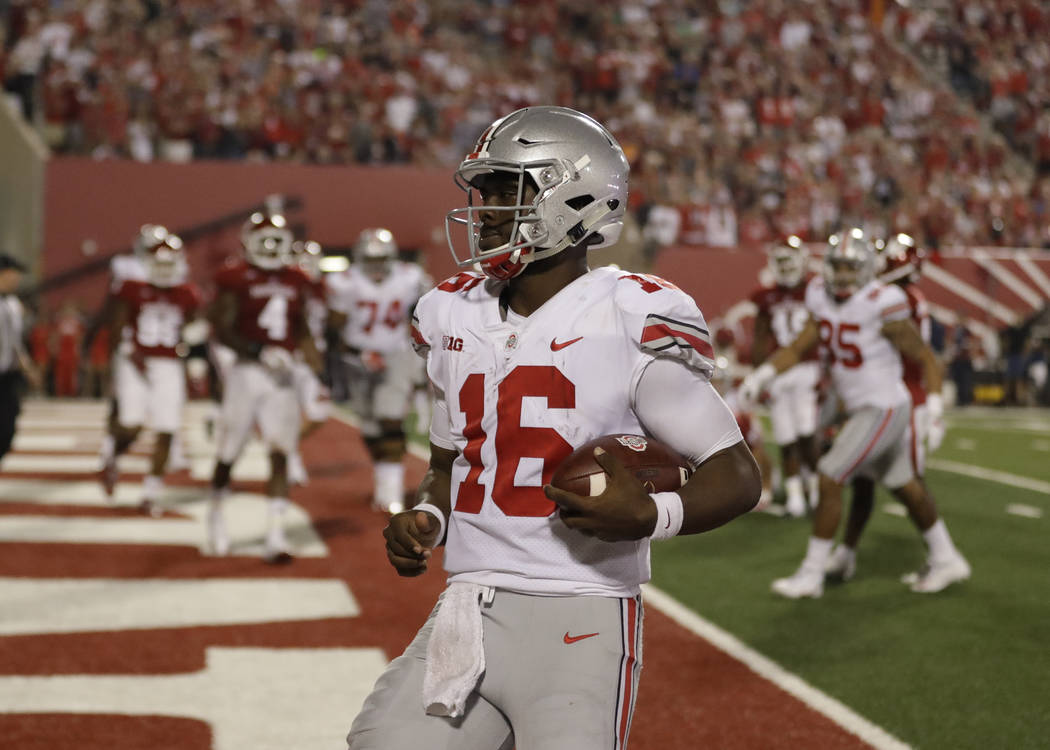 Ohio State QB J.T. Barrett                                            AP photo
These "Sons of Archie Griffin," the nation's fifth highest (43) scoring eleven, is directed by "Mr. Buckeye," its dual-threat record breaking QB J.T. Barrett (33 TDs-7 Ints-66%-9 rushing touchdowns) who, if all systems are locked on go, has the ability to deliver with Mozart perfection. (Just ask Penn State.)
But the question in Columbus lingering just beneath the Horseshoe turf for the Scarlet and Grey nation is; which J.T. will it see in Indy, the one with the beautifully written classical score who conducts with fluidity of and charisma of Leonard Bernstein, or the one who stumbles in the wilderness appearing as if he never even glimpsed of the playbook?
If he is off, the Bucks leader can rely on a pair of rocket infused tailbacks; J.K. Dobbins (1190 yds.-7.3 a pop-7 TDs) and his partner Mike Weber (602 yds.-10 TDs) who have the ability to crack any defense, while wideouts; K.J. Hill, Parris Campbell, and Terry McLaurin are more inviting targets than Judge Roy Moore on CNN.
On D, these "Sons of Randy Gradishar" anchored by end Sam Hubbard (10 tfls-4.5 sacks), tackle Nick Bosa (12.5 tfl-6 sacks), and safety Jordan Fuller, swarm to the ball, charging with the same glaring scorn that Press Secretary Sarah Huckabee Sanders exudes at her WH press briefings.
In Madison, the "Rodney Dangerfield" of college football, AKA the undefeated Badgers of Wisconsin, need to bake Julia Child perfect "baker's dozen" if it is going to land a playoff invite.
Trust me, not even Nostradamus could have predicted this unblemished journey.
Wisconsin Heisman contending tailback Jonathan Taylor             AP photo
The catalyst for these "Sons of Alan Ameche" is its Heisman contending freshman tailback Jonathan Taylor (1806-yards – 7 yds. a carry – 13 TDs- third in the nation) who runs with the same wild abandonment as the horses in Montana, and slices through the line (averaging 150-yards a game) better than the Executive Chef at Abe and Louis hand carving a dry-aged piece of prime.
The commander of the Badgers operation is QB Alex Hornibrook (21TDs-13 Ints – 63%) who as the faithful are well aware, has a tendency to be a one man turnover machine, but fortunately his tenacious D has consistently bailed him out by snuffing out the danger.
On those occasions when he's locked on, tight end Tony Fuagelli, and receivers A.J. Taylor, and Kendric Pryor are consistent chain movers
But it's been the D of these "Sons of Tim Krumrie" that have propelled the Badgers to these Prudential-sized eights.
This group ranked tops overall, and the nation's second (12) stingiest, featuring backers T.J. Edwards, Ryan Connelly, and safety D'Cota Dixon. This group has better numbers than Joey Heatherton, or a Victoria Secret runway show, and has been harder to penetrate than the Clinton Foundation's financial accounts.
We think the "Cheese Heads" Cinderella story melts into a sticky fondue, as Ohio State lays out an Alan Dershowitz airtight case for a playoff invite.
[Note: if the Bucks do prevail it will be a talent show between them and one-loss non-champion Alabama. The feeling is in that scenario, the Boys from Columbus own the more alluring resume. We'll see.]
No. 10 TCU vs No. 2 Oklahoma (Fox, 12:30 p.m.) The Horned Frogs situation is nearly as hopeless as waiting for the lights to return on Puerto Rico, or the POTUS to go an entire day without sending out an insulting tweet.
Even if the Frogs knock off Oklahoma, it doesn't have enough cache to move into a playoff slot, but it would spoil the party for the entire Big-12 conference eliminating it from any consideration.
TCU QB Kenny Hill                                        AP photo
The pedestrian offense of these "Sons of Sammy Baugh" is under the direction of its leather-tough, dual-threat QB Kenny Hill (19 TDs-5 Ints-66%-4 rushing), who plays with the élan of a free flowing Baryshnikov.
The QB focuses on the receiving trio; Desmon White, KaVontae Turpin, and John Diarse and hits his targets with more accuracy than the bongs of Big Ben, which is currently in the process of undergoing a 4-year rehab project for much needed repairs.
And when the Purple Frogs take to the ground, tailback Darius Anderson (8 TDS) is the principle mail carrier.
On D, the nation's eighth (15) stingiest, anchored by end Mat Boesen (13 tfls-11.5 sacks-4th in nation), and backers Ben Bangos (14 tfls-7.5 sacks), and Travin Howard, stone runners, allowing a nation's second best less than 90-yards a game, but shows some serious fissures (73rd) defending the pass, which is the wrong post-holiday recipe against Oklahoma.
With apologies to Rogers and Hammerstein; "Oklaahooooma, where the 'wins' comes sweepin' down the plain…" are a single victory from being crowned Big-12 conference champs for the third consecutive year, and earning a spot in the final four.
But to paraphrase George Harrison, "You know it don't come easy," in a rematch, there's that word again, especially against a feisty proud bunch of Frogs from Fort Worth.
Oklahoma QB and Heisman front-runner Baker Mayfield                    AP photo
These "Sons of Billy Sims" who score more often than Taylor Swift (45ppg), while averaging a nation's best 593-yards of offense, are under the command of its cocky Heisman front-runner, QB Baker Mayfield (37 TDs-5 Ints – 71%), who leads the nation in pass efficiency, while averaging a mind-blowing 341-yards through the air.
The All-America, who launches more rockets over the skies of Norman, than North Korea's Kim Jong-Un fires from Pyongyang, selects from a buffet of receivers; Mark Andrews, Marquise Brown, Ceedee Lamb, and Jeff Badet, all of whom have the ability to break a game wide open.
And when "Mr. Heisman" gives his arm a rest, OU's hard-charging tailback Rodney Anderson (11 TDs – 5 receiving), plows the earth better than a John Deere in a Kansas wheat field.
The Sooners D, never its strong calling card (62nd) led by the backing trio: Ogbonnia Okeronkwo (17.5 tfls-8 sacks), Emmanuel Beal, and Kenneth Murray, has managed to solidify in the last month, but still has serious as Jesse Jackson is wont to say "issues" defending (90) against the pass.
In a game that has potential to be a classic, we'll stay with the Sooners, and the spirit of Bob Stoops, whose surprising late retirement this year, left its faithful with a championship caliber football team, and we think that will be on display on Saturday.
Last week; 2-3
Season record; 45-20
That's it from cyber-space. We'll be up and running with our analysis of the committee's decision on the final four, and what we think will happen in our recap Sunday afternoon.
Until then, Peace, and listen to the music. pk