Anchors aweigh!
We'll start with the Cougars of Houston, where indeed; they do have a problem.
The Midshipmen of Navy, playing at Marine Corps Memorial Stadium, torpedoed Houston's playoff dreams by executing its triple-option to military perfection, shredding the nation's top-ranked rush D for over 300-yards in its 46-40 stunning victory.
It was the Middies first win over a top ten team since Nancy Reagan was purchasing patterns of china and planning White House State dinners in: 1984.
The victory also puts the Middies in full control of West Division of the AAC Conference.
In the spirit of New York Senator William L. Marcy who in 1828, when Andrew Jackson won the presidency first coined: "To the victors belong the spoils," Academy Superintendent Vice-Admiral Walter E. Ted Carter Jr. in a similar gesture victorious glee, extended the Columbus Day holiday by cancelling Academy classes on Tuesday. Good for the Vice.
(Note: Marcy, who went on to become Secretary of State, was born in Southbridge, Mass.)
In this space we are big believers in bad karma.
And in Chestnut Hill it took less than a week for that payback to hit the Eagles right in the snoze.
In last Saturday's game against an overmatched 1AA bunch of Seahawks from Wagner, the Eagles were in full control, leading 28-3 with 14-seconds left on the clock.
But that's when the Eagles Coach Steve Addazio decided to run it in from the three-yard line to puff the score to a meaningless: 35-3.
Any coach with a scintilla of class would take a knee, shake hands, and call it a day. It is simply bad karma which eventually comes back to bite you.
Welcome to Friday Night Frights at the Heights; where the karma bite was bigger than anything from Steven Spielberg's: "Jaws."
The "Sad Sack Addazio's" were shellacked once again, this time by the Tigers of Clemson in a 56-10 debacle that fell into the "Ishtar" category of unwatchable.
BC has now lost 11-in-a-row to ACC opponents, and are a woeful 1-18 against its last 19 ranked opponents. Yikes!
Can you say; IRREVELANT.
The football program is in such an abyss, it makes the Trump Presidential campaign seem like a Russian military operation, and the time has come for "Mr. A" to begin polishing up his resume.
Another CV in need of updating is that of Texas Coach Charlie Strong, who once again watched helplessly (he does that a lot) as his Horns D was shredded (surrendering plays of: 71,42,47) for a total of 672-yards, as the 'Burnt Orange lost its third straight, this time to the Sooners of Oklahoma; 45-40 in the Red River Rivalry.
This week Strong grabbed control of the defensive reins, but the results were worse than the evidence room of the Braintree Police Department, or the crime lab of state chemist Annie Dookhan.
We feel Charlie is in his last roundup as the Horns head man, and the powers in Austin have Houston Cougar head Coach Tom Herman on speed dial. Sorry Charlie!
On the local front, our pal Tim Murphy and his Crimson of Harvard (4-0, 2-0 Ivy) continue to roll knocking off Cornell: 29-13.
Too bad BC never could find its way across the river and knock on Murphy's door, but that's a story for another time.
In College Station, the can of WD-40 finally ran dry for the Volunteers of Tennessee (7-turnovers) who for the fourth time this season fell behind by double digits (21), then stormed all the way back to tie: 35-35, only to lose in double overtime to a surprising and undefeated (6-0) bunch of Aggies; 45-38.
We're happy for Oklahoma graduate transfer QB Trevor Knight, whose performance justified A@M coach Kevin Sumlin's open arm welcoming him to "Aggieland" in the same emphatic way Hillary expresses a bug-eyed stare when someone shows her a simple chocolate chip cookie.
In Eugene, rumor is Phil Knight University, aka Oregon, is considering switching allegiance from Nike to Adidas, as the Ducks (2-4), who have lost 4-straight, were shredded by a very good group of Huskies (6-0) from Washington: 70-21. Yikes!
Where's Chip Kelly when you need him?
And continuing in the can we start the season over department: the Irish of Notre Dame check in at a disappointing 2-4, while appearing clueless as to how to stop the bleeding experiencing its worst start since; 2007.
While the Cardinal of Stanford have now suffered consecutive defeats for the first time in 6-seasons, enduring its worst home loss, (a 42-16 loss to Washington State), since W was about to begin his last year mispronouncing the word nuclear as the Commander-in-Chief.
And in East Lansing, what in the name of Duffy Daugherty is going on?
The Spartans of Michigan State, whose offense is trending toward Eagle-esque awful, have lost three-straight under Mark Dantonio for the first time since 2009. WOW!
In Miami, newbie head coach Mark Richt got his first taste of the Noles/Canes intra-state rivalry, and unfortunately for the ex-pat from Athens, it was strong and bitter to the palate.
In a throwback to another era, the Seminoles of Florida State, on a blocked extra point by end Marcus Walker with 1:38 left on the clock, fought back to beat the Hurricanes; 20-19.
Michael Badgley the Canes kicker had made 72-in-a row, and the irony of the miss was not lost on the faithful.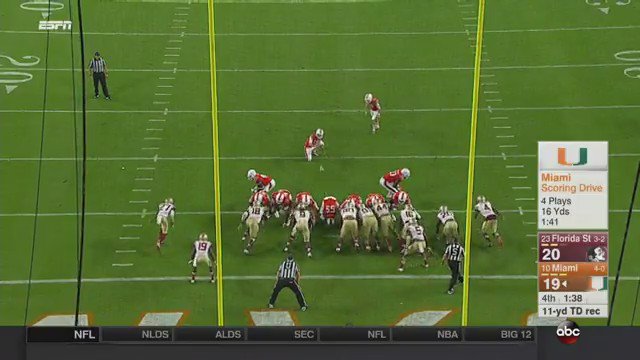 It occurred on the day that Miami honored its 1991 National Championship; "Wide Right 1" team. The chip-shot miss cost Richt's team a chance for its biggest victory in years and a solidified spot in the top-ten. Too bad for good guy Richt.
In Blacksburg good things are brewing, as Justin Fuente and his VaTech Hokies (4-1) smoked the Heels of Carolina 34-3, and continued to cement its place in the rankings.
As always, we close with Kansas football, who have lost its last 13 Big 12 games.
KU, the last team that our pal, the bloviating gasbag Charlie Weis "fixed" almost won its biggest game in a gazillion years, before falling to TCU 24-23. The Jayhawks, 30-point dogs, led 23-14 into the fourth quarter, but missed several field goal attempts, but the team and its new QB showed some renewed fight. Good for them. Sorry Charlie!
That's it from cyber-space. We'll be up and running with our analysis of week 7 Wednesday night. Until then, Peace and listen to the music. PK